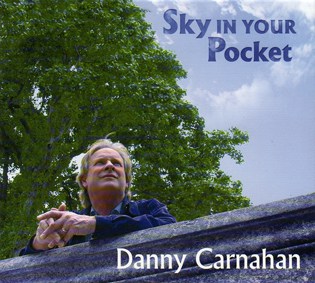 TRACKS
(all songs by Danny Carnahan except as noted)
Meantime
The Only Stranger (by Mick Fitzgerald)
After the Thin Man
Walking Around Your Brain
Gunslinger
One More Diamond
Ballad of Capel Street (by Mick Fitzgerald)
Next Time For Two
Bring the Ants
Room For Our Dreams
WHO PLAYED WHAT
Danny Carnahan sang and played acoustic guitar, octave mandolin, fiddle, cello, and one-handed, homeopathic piano
Sylvia Herold sang harmonies
Cindy Browne played acoustic bass
Jon Arkin played drums
Brian Rice played assorted percussion
Pete Grant played pedal steel guitar
Mike Dowling played slide guitar
Charlie Hancock played piano accordion
Paul Kotapish played mandolin
Kevin Carr played melodeon
Peter Wahrhaftig played tuba
Jim Broadstreet played trumpet and flugelhorn
Larry de la Cruz played tenor saxophone and clarinet
LINER NOTES
Fly My Way
Let's start with a little blind optimism. I assigned my songwriting class a task: Write a love song to someone who doesn't know you exist. Later, guilt-ridden about the difficulty of the assignment, I sat down and did my own homework.
Meantime
Sometimes the universe insists on being perversely cruel. Sometimes the only thing to do is to yell at it. Sometimes the yelling subsides and you find yourself with a hopeful love song.
It's Early Yet
This is probably my favorite of all my songs. It's nice to step into the spotlight on it after all these years.
The Only Stranger
My Dublin friend Mick Fitzgerald wrote this, a song that has haunted me since my first days falling in love with a Dublin that certainly no longer exists and maybe never did.
After the Thin Man
I always loved that old movie. It has nothing to do with this song. And despite the lyrics, no rabbits were harmed in the production of this track.
Walking Around Your Brain
Once merely a pathetic plea for understanding, this song is now my humble appreciation for the power of an amusing metaphor.
Gunslinger
This is an homage (sort of) to Edward Dorn's beat novel "Gunslinger", wrapped around a re-imagining of Scottish fiddler Nathaniel Gow's 1800 composition "Lord Haddo's March" and then dropped in the bayou.
One More Diamond
The chorus grew from a lyric I misheard on the radio one day and felt honor-bound to wrestle into its own song. Someday I'll figure out what the misheard song was.
Ballad of Capel St.
Another from the Mick Fitzgerald songbook, one he wrote a few years ago, proving that he remains one of Ireland's best unknown songwriters. As in so many of his songs, Mick's Dublin becomes instantly and vibrantly alive.
Next Time For Two
Here's another sweet little dose of blind optimism. The blindness comes and goes but the optimism persists.
Bring the Ants
Written on a rare night when a comet shared the sky with a lunar eclipse. How the devil got in there remains a mystery.
Breathe
This is a little birthday gift to Saundra, to whom I could never give enough to repay what she's given me.
Room For Our Dreams
When the universe delivers up joy it's not always where we're looking or in the ways we expect. Being open to the unexpected helped me find my wife Saundra, my son Teddy, and a long and rosy future.
Produced by Danny Carnahan.
Engineered and Mixed by Derek Bianchi at Muscletone Studios, Berkeley, and Guy Lento at Under the Radar Sound, Pleasant Hill.
Mastered by Derek Bianchi
The production owes particular thanks to Barry Phillips for much-appreciated last-minute engineering help, to Stephen Saxon for providing the ever-so-cool horn arrangement, to Holly Tannen for luring Danny out of his comfort zone to work with horn players, to Amy Kirsch, who knew the best way to enjoy an eclipse and a comet, to Kirk Johnson for his introduction to Edward Dorn, to Ken Genetti for the gift of "Lord Haddo's March", and to Mick Fitzgerald for countless instances of inspiration over the years. As for all the musicians who brought their talents to this project, Danny is still fishing for adequate words to express his giddy delight.
Photography by Harry Yaglijian and Saundra Wane.
Package design by Kim Hughes.
Best boy was Teddy.
Danny recorded all tracks playing a 1986 Stefan Sobell guitar (tuned standard or drop-D or open G with a low C, depending) and a 1978 Andrew Manson octave mandolin. In his humble opinion instruments just don't get any better than these.
"The Only Stranger" was written by Mick Fitzgerald, © 1980 Mick Fitzgerald/Hup-Jack Music. "The Ballad of Capel Street" was written by Mick Fitzgerald, © 2003 Mick Fitzgerald/Hup-Jack Music. "It's Early Yet" was written by Danny Carnahan, © 1992 Post-Trad Productions. All other songs were written by Danny Carnahan between 1995 and 2010, © 2011 Post-Trad Productions.
More information on Danny's other recordings and the lyrics to his recorded songs can be found at www.dannycarnahan.com.
This CD is for Saundra with love. Even though all the songs weren't originally written about her, they're all hers now.